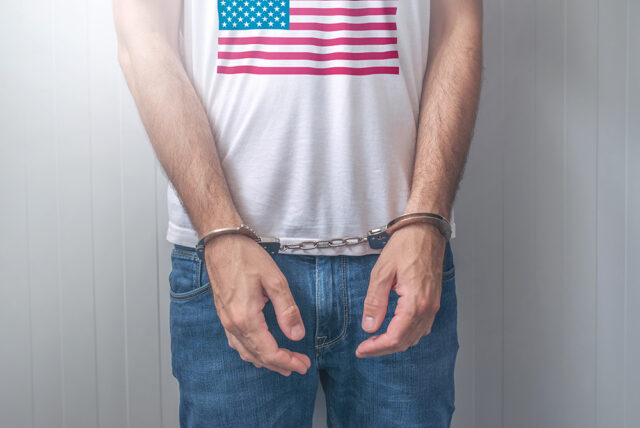 Your Fourth of July to-do list:
Remember your sunscreen.

Know what you'll pack in the cooler.

Pack your favorite snacks. 

Know the number of your local bail bonds agency.
Wait — what?
With an increase of crime in the summertime comes an increase of arrests near major holidays — and the Fourth of July is no different. While we want everyone to enjoy their summer fun and get home from their Independence Day festivities safely, we also know that the Independence Day weekend will result in the need for more bail bonds and newly-incarcerated inmates who need help. That's why we're here. Give us a call today if you or someone you love finds themselves behind bars after their Fourth of July goes awry. Meanwhile, here's some helpful information.
Which crime spikes on or near the Fourth of July?
The crimes associated with July Fourth tend to be alcohol-related in nature. Though, other crimes such as gun violence, domestic assaults and stabbings are associated with alcohol consumption, so it's all a full circle.

In fact, crimes related to alcohol aren't the only crimes that see a spike over the Independence Day weekend. Over the holiday weekend in recent years, U.S. cities also saw an increase in gun crime. If your Fourth of July becomes violent and you find yourself in need of a bail bond, we have a helpful resource here.
Why so much crime near the Fourth of July?
Law enforcement officials in cities across the country have attributed these spikes to large gatherings, people making decisions that are influenced by alcohol and simply more time spent outside. In 2020, protests as well as the COVID-19 pandemic added to the tension.
As we mentioned, summer already brings more crime than any other time of year for all of these reasons. Some attribute Fourth of July crime to all of the above factors. Add the fact that the hotter people are, the more uncomfortable — and thus agitated — they become, and you have a recipe for plenty of arrests and more people needing bail. 
Plus, take into account the "Drive Safe" or "Drive Sober" campaigns that local law enforcement agencies enforce near the holiday. There will likely be more law enforcement out on the roads, looking to arrest those who drive under the influence. For this reason we ask that you drive sober and drive safe! However, if you do find yourself in need of  a bail bond after a Fourth of July drunk driving arrest, read our guide here.
So, what does 2021 look like for Independence Day Crime?

With an uptick in violence since COVID-19 restrictions began to laxe, officials are already preparing for another violent summer. 
One positive outlook is that some cities did see less violence over Memorial Day weekend than last year, which tends to be another summer holiday when crime and arrests both spike. 
Experts attributed this to reasons that vary between more law enforcement and community activists present, and a bit of bad weather.
Here at A-Affordable Bail Bonds, we're ready to help if your Independence Day finds you needing a bail bond, yourself. We'll get you your bail amount as quickly as possible, so you can get out of jail and enjoy the rest of your summer the way it was meant to be enjoyed. 
Check out our helpful resource about the process, and don't hesitate to give us a call. And remember, enjoy a happy and safe Independence Day!
Contact us if you have any questions about the bail bonding process!