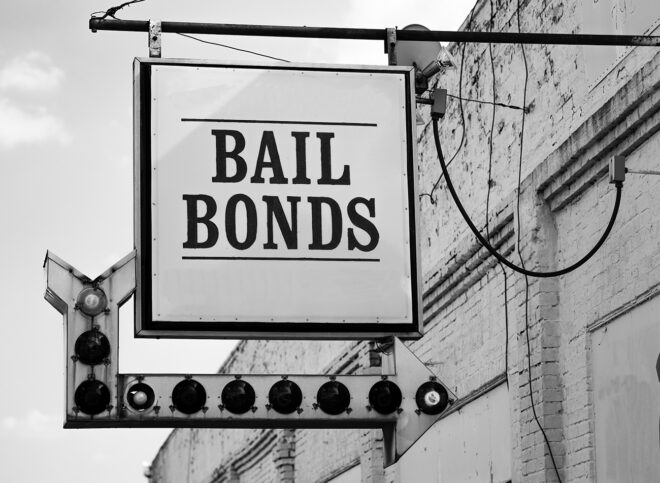 You've read it in news stories and heard it on TV: "Bail was set at $___."
But what does that actually mean? And more importantly, when you or a loved one are arrested, what steps do you expect to obtain a bail bond and go through the process? Here's some tips. To see a helpful infographic of this whole process, go here!
When the defendant, whether it's you or your loved one, is arrested, they're booked into jail. In some situations, you're not released just upon the citation. Instead, a cash bond amount is determined at the local level. If you have that amount of money, you can pay your bail and be released from jail.
When you're being booked into jail, you should expect the opportunity to make one phone call. This is where we come in. When you call us, we'll take some of your basic information and get the bail bond process started. You may also call an attorney, family member or other loved one who can refer you to a bail bondsman, or call the bondsman on your behalf.
You may also be placed in jail until you see a judge. In Minnesota, any adult who has been arrested without a warrant and taken to jail must see a judge within 36 hours after having been arrested. At this initial hearing, the judge will determine and set a bail amount.
We mentioned that when you or a loved one calls a bail agent, they'll take some personal information. Those details are outlined here. The basics that we'll need to know are the inmate's full name, the location of the inmate/where they're in custody, their booking number and how much bail you need.
You may pay your total amount, or you may not have the funds to do so. If you can't afford to pay the full amount, no problem! The bondsman will take 10 percent of the amount, and work with you to establish a payment plan or take a credit card payment to help pay the bail.
From there, you need to fill out some paperwork, but there's no need to worry. Our bond agents will work with the jail to deliver the paperwork and complete the process as soon as the payment is figured out.
Even if you establish bail right away, you may have to wait for that initial court hearing anyway. This is so the judge can establish any conditions of your release and confirm the bail amount.
After that, you're free! However, make sure you attend all your court hearings until your case is resolved. Otherwise you could be facing new charges altogether.